Posted by: Guest on 21-05-2018 09:18
Type: Accidents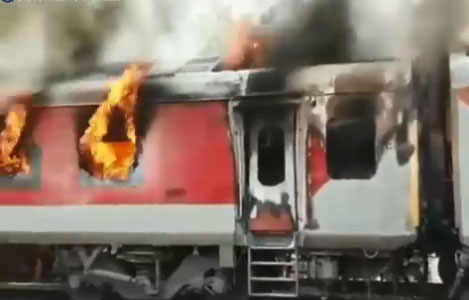 Four coaches of Andhra Pradesh Express between Delhi and Visakhapatnam caught fire near Gwalior in Madhya Pradesh on Monday, forcing railways officials to evacuate the train.
The fire was detected when it was near Birlanagar railway station, a few kilometres from Gwalior. The train was stopped and all the passengers were evacuated.
Railway PRO Manoj Kumar said a high-tension wire fell on the train resulting in the blaze starting from B6 and B7 bogies. The fire soon spread to two other adjacent coaches.
Several fire tenders were rushed to the spot which managed to douse the fire. The rail route between Delhi and Gwalior has been closed temporarily as a precaution. It may take another hour to railway line to open, officials said.